Movable pool floor

Create more possibilities with a movable floor for a public pool or for your private pool. Variopool developed an innovative system that makes it possible to get more return from the pool. By installing a movable pool floor it is possible to allow more target groups to use the pool. For example, regular swimmers can do their laps, and if the floor is placed in a higher position, other target groups such as children can also use the same pool because their feet can touch the ground. This is because a movable floor can be set to any desired depth. Variopool has many examples to show you. Another example, if we set the floor at a height of about 10 centimeters, children can play on it or get used to water. We have examples that even a game of water soccer can be played or aquafit bikes can be placed on it. A lot more is possible with the use of a movable floor in a swimming pool.
What is a movable floor for a swimming pool?
The unique feature of our system is that our movable floors have a floating concept. Combined with a stainless steel framework and hydraulic system we offer a highly durable floor. Besides that this result is easy maintenance, you do not have to empty your pool. Our engineers developed this technical system which meets all high safety standards around the world. Each project is custom-made and has its own personal touch. An engineer will make a calculation to meet your demands, and you can choose your own finish. Our private movable pool floors and even stairs, can be made in all sizes, shapes and depths. We have our own installation team and work all over the world.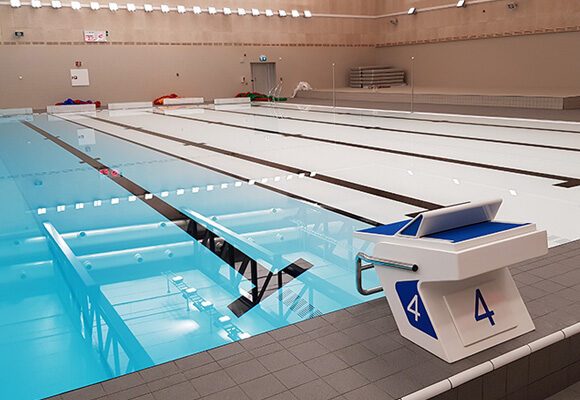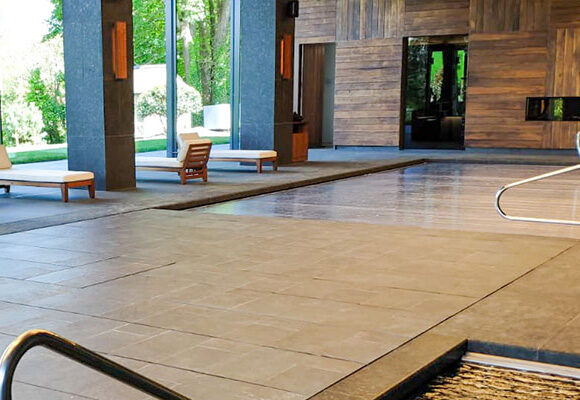 One of the Coolest Features for public or private swimming pools: Movable Pool Floors
Movable pool floors have become one of the trendiest things for swimming pools, captivating social media with their incredible functionality. With these innovative movable pool floor systems, you can create the ultimate hidden pool. At Variopool, we pride ourselves on being at the forefront of this magnificent technology. These movable floors are not only popular among owners of public pools but also highly sought after by homeowners for their private pools. Movable pool floors have been around for many years, and Variopool, along with our subsidiary Holland Aqua Sight, has been successfully producing and installing these systems worldwide. Our innovative pool floors allow you to effortlessly transform an indoor fitness space into a covered swimming pool, or in a public pool you can also use the floor for special ceremonies because they can be lowered to various depths or raised to ground level, creating a flat surface. Check out these possibilities on this webpage.
Versatility and Benefits
With just the push of a button, the pool can be adjusted to different depths. These pool floors also have applications in creating improved therapy pools, known as Hydrotherapy. The slip-resistant movable pool floor systems can be easily customized, enabling swimmers of all physical conditions to enter and exit the pool with ease. The floor can be set at individual height, allowing the patient to walk or be wheeled directly onto it which is also much better and easier for the therapist. We offer the complete range of products that is needed for Hydrotherapy.
Download HERE the complete brochure
Customization and Strength
While public pools often opt for a white finish, movable pool floors for private pools can be finished with luxurious tiles, glass mosaics, and even marble, based on the client's preferences. Furthermore, these pool floors have exceptional load-bearing capacity, ensuring durability and safety.
Movable pool floors are revolutionizing the way we utilize swimming pools, providing flexibility, convenience, and accessibility. Whether for public or private use, Variopool's movable pool floor systems offer endless possibilities. Upgrade your pool to the next level with our cutting-edge technology and enjoy the ultimate swimming experience.
Alternative names for a movable pool floor:
Movable pool floor
Moveable swimming pool floor
Moving pool floor
Adjustable pool floor
Variable depth pool
Retractable floor
Raised floor
Floating floor
Hydraulic floor
Movable floor for Residential, commercial or public pools
Every project is unique and so is every movable pool. For a home we design a floor that meets the requirements set for it. It may be clear that there are other requirements for a pool floor in a public pool than a movable floor for a private home or resort. The unique thing about a movable floor for your private pool is that we can make it blend in with the surroundings. In a very short time you can change a courtyard into a pool which is also absolutely safe for small children to swim in. We can finish the top layer of the floor in any desired look so that it becomes one with the environment. Seeing is believing!
Safe, secure and it reduces costs
There are more advantages of Variopool and Holland Aqua Sight movable floors. Firstly they are completely safe for anyone who wants to use them. Even when the floor is in the highest position it is not possible to get trapped. Another additional advantage is when the floor is set in the highest position, you can walk or party on it and people do not even know that they are on this movable floor. It also keeps dirt out of the water and the water temperature cools down less. So that also saves on costs. So no worries. We installed these types of floors in big resorts, spas and hotels.
Swimming pool with two different temperatures
Another Variopool innovation is a pool with two different temperatures. We do this by using a special insulation wall. As soon as this wall is folded up, part of the pool can be raised in temperature. This is a godsend for small children and seniors. Read the complete story about this unique innovation for swimming pools.
In short, this is the next generation movable floor you want in your swimming pool. Got any questions left? Please feel free to ask them.